Summer is right around the corner and what better way to kick off the season than with a chilled summer cocktail to enjoy in the warm weather. One of the benefits of renting a corporate apartment with Furnished Quarters is having more space than a hotel. In your fully furnished apartment and living room, you can entertain guests and host a small get-together. Make a toast with our recommended recipe.
Our recipe of the month is a Raspberry Champagne Cocktail from Williams-Sonoma. It features fresh raspberries macerated in crème de cassis and bathed in chilled Champagne, with a hint of grenadine for extra flavor. Cheers!
If you have any recipes you would like to share, please email us at recipes@furnishedquarters.com for a chance to be featured in an upcoming blog!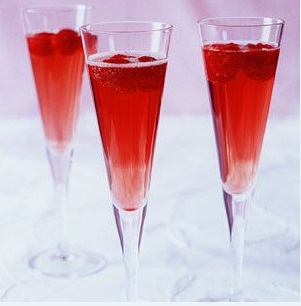 Ingredients:
-4 oz. fresh raspberries
-3 Tbs. crème de cassis
-1 bottle (750ml) dry Champagne, chilled
-4 to 6 tsp. grenadine syrup (optional)
Directions: (serves 6)
Put the raspberries in a small bowl, add the crème de cassis and let macerate for at least 30 minutes.
Divide the raspberries among 6 Champagne flutes and pour in the well-chilled Champagne. Add grenadine to taste and serve immediately.